How it all began....
  
Strathaven Castle
I'm Nora,  a Scottish lass living and working in a rural area of South Lanarkshire, a few miles outside Strathaven. I specialise in luxury tweed and tartan gifts for the wedding party, particularly the Best Man, groomsmen and fathers of the bride and groom.
I have always been interested in art, design and textiles. I learned to sew at a very early age, and enjoyed designing and making my own clothes as a teenager.  However, I was gently guided towards a more academic route, and followed a career as a research scientist, considering art as more of a hobby.
But when my first child was born, everything changed. I was living in a beautiful rural area, my husband was already working from home, and I decided to become a stay at home mum.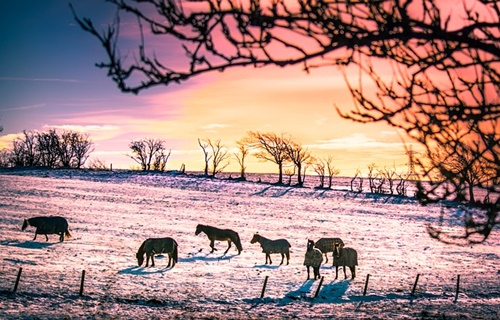 View from my window...
I started a small craft business, making jewellery, accessories and high quality bags and purses. I also occasionally made bridesmaid's dresses and carried out bridal alterations, mainly for friends an family.
One day, I was looking for a Scottish gift to take over to an uncle in Canada who was retiring.
As he loved a little dram, I thought of a hip flask. I wanted something unique, a high quality item he would be proud to own. In the shops, I could only find run of the mill, mass produced flasks, or cheap imported items with tacky slogans. So I decided I would make my own!
I already had a stock of the luxury hand woven Harris Tweed, famous throughout the world for its quality and style. Using a blank stainless steel flask as a base, I produced my first Harris Tweed covered flask, with real leather trim and a hand cast pewter celtic knot embellishment.
It was a great success, and immediately I was asked to make a set for an upcoming wedding....
Tweed with a Twist was born!
The Products
 Working from my small studio, I source only the highest quality materials, and each order is handmade to your specific requirements. That way you can be assured of bespoke, high quality gifts tailored to your own exact specifications to make truly unique gifts which will be much appreciated.
Although based in Scotland, I'm proud to say my items have been sent all over the world , from Finland to South Africa, Australia to Japan.
Why the popularity of Harris Tweed and tartan?  Well, wedding trends may come and go, but there's a bit of Braveheart in every Scottish groom...and what man doesn't look great in a kilt? Tweed and tartan feature strongly in many Scottish weddings, and I also have had many orders from USA, where many like to proudly display their Scottish heritage.
With the popularity of Rustic and Barn weddings, my Harris Tweed rustic range featuring brown leather labels on earthy tweeds has proved extremely in demand, along with the more traditional tweeds and also tartans to match your theme, kilts or family name.
But Harris Tweed is a much loved iconic fabric, part of Scottish heritage but also adopted by top fashion houses throughout the world.. A traditional fabric for gamekeepers and country gentlemen, yet an equally stylish choice for urban hipsters!
I also supply gifts for the Bridesmaids, and indeed all the family and for other occasions. As a keen jewellery maker, I couldn't resist incorporating tweed in my jewellery, so you will also find a selection of unique Harris Tweed jewellery in my shop too,
I am always adding to my range, and I'm currently working on some rather nice rustic- themed corsages and boutonnières which will shortly be appearing in my shop here where you can see all my current stock,  or request custom orders.
The Promise
All my items are made with care and attention,  to the highest standards. If for any reason you are not completely happy with your item, it can be returned, refunded, exchanged or altered to suit your requirements.
I want you to be happy with your purchase,  and any concerns or problems you may encounter will be quickly and happily resolved to your satifaction with the minimum fuss.  I assure you of my attention at all times.
In compliance with the EU distance selling regulations,  any item can be returned  for a full refund , by notifying me within 14 days of receipt,  then returning the item in its original condition within a further 14 days.
Exceptions include custom made orders, which are not returnable unless faulty.  However,  I am happy to supply samples  of materials, colours etc. before orders if requested..  occasionally there may be a small charge for this,  although it would be refunded on full order.