Today we're talking about one of the most beautiful tartans. Isle of Skye tartan is a relativley new tartan,  and has gained great popularity.
As an "open" tartan,  not connected specifically to any clan or family, it has become a firm favourite for wedding kilts and accessories. And as a "regional " tartan, appeals greatly to all those who have been enchanted by  a trip to the isle of Skye
The colours of this tartan reflect the Misty Isle in all it's glory -  the sea green, the purple of the heather, and the peaty reddish brown of the rocky landscape, with the misty pale grey stripe, re-awakening fond memories in many a heart the world over.
 Isle of Skye Tartan facts
Instigated by Mrs, Rosemary Nicholson Samois, and Australian with Isle of Skye heritage, now living in Skye
Designed by Angus MacLeod, a weaver from the isle of lewis
First registered and woven in 1992
This tartan is registered to be woven only by Lochcarron of Scotland,  with a licence granted to Marston Mills for the lighter weight cloth.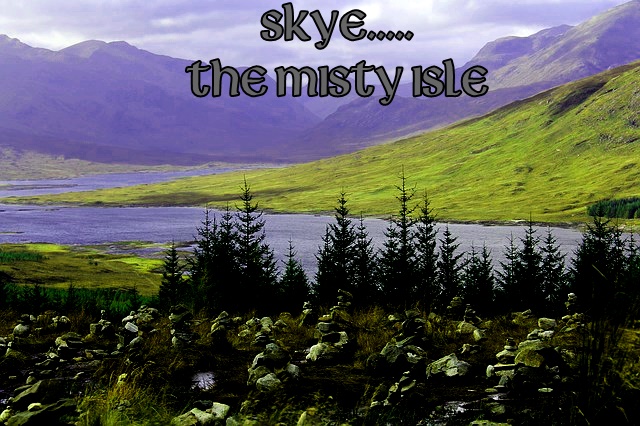 The landscape that inspired the tartan
Here at Tweed with a Twist  you can find this beautiful tartan used in many different ways,  with gifts for men and women, wedding mementos and even jewellery to bring a little touch of this almost mystical tartan into your life.